An Eala Órga agus scéalta eile ón India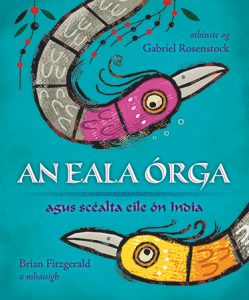 Athinste ag Gabriel Rosenstock
Brian Fitzgerald a mhaisigh
A collection of folktales for children retold in idiomatic Irish by Gabriel Rosenstock.
Bhí an ghrian go hard sa spéir. Thosaigh na hainmhithe móra ag gearán. 'Tá an ghrian i bhfad róthe!' arsa an buabhall uisce. 'Tá,' arsa an eilifint. 'B'fhearr liom é mura n-éireodh sí in aon chor!' Chuala an ghrian ag caint iad. Shocraigh sí nach n-éireodh sí lá arna mhárach ná an lá ina dhiaidh sin. Stailc! I scéal seo na gréine, agus i scéalta An Eala Órga trí chéile, tugann Gabriel Rosenstock, mar aon lena chomhealaíontóir, Brian Fitzgerald, ar thuras geal i bhfad is i gcéin muid. Seo againn Gúrú na Gaeilge agus é i mbarr a réime.
Read an extract from the book ANSEO
Review taken from Rogha leabhar 2019-20 (Children's Books Ireland) ANSEO
ISBN 9781857919493   •80 lch   •€9   •Bog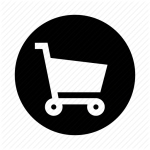 ---
You may also like...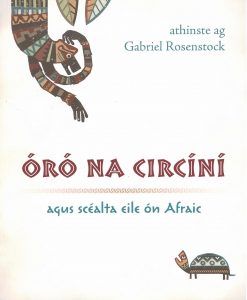 Collection of folktales from Africa retold by Gabriel Rosenstock.
Read an extract from the book ANSEO
Review www.tuairisc.ie
Flyer ANSEO