An Saor Cloiche Míshona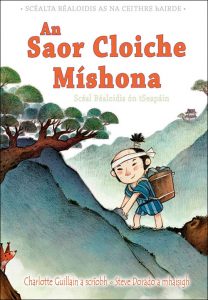 An dara leabhar sa tsraith Scéalta Béaloidis as na ceithre hAirde a thagann sna sála ar fhoilsiú An Pota Folamh.  
LÉIGH NÍOS MÓ
Scéal béaloidis ón tSeapáin. Seanscéal simplí é seo a bhaineann le traidisiún béil na Seapáine. Saor cloiche is ea é Haru. Bhí sé sona sásta go dtí gur thosaigh sé ag santú na rudaí a bhí ag daoine eile. Ach má tháinig an saibhreas d'imigh an sonas. 
This book tells the story of the Unhappy Stonecutter, a traditional Japanese folk tale. In it, a simple stonecutter learns that you should count your blessings and be grateful for what you already have, instead of always wanting more!
LÉIGH NÍOS LÚ
ISBN 9781857919424   ISBN 9781857919189   • Bog   • 24 lch    • 4-7 mbliana   • €5