Young Readers


J.M. Barrie & Máiréad Ní Ghráda
Foilsíodh eagrán nua de Dracula cúpla bliain ó shin agus tá curtha leis sin anois Tír na Deo, atheagrán de leagan cáiliúil Mháiréad Ní Ghráda de Peter Pan. Ba sa bhliain 1938 a chéadfhoilsigh an Gúm Tír na Deo. Ní aistriúchán díreach ar cheann ar bith de na heagráin Bhéarla de Peter Pan a bhí sa saothar, ach athinsint Ghaeilge ar an scéal ó pheann Mháiréad Ní Ghráda. 
READ MORE
Tá an litriú tugtha de réir an chaighdeáin oifigiúil san eagrán athchóirithe seo. Tá mar bharr maise ar an saothar seo na léaráidí sin le Mabel Lucie Atwell a chuaigh i bhfeidhm chomh mór sin ar na léitheoirí in 1938. Éalaigh leat, a léitheoir, agus téigh chun cónaithe i measc na sióg i dTír na Deo. Is ann a bhfaighidh tú Peadairín Pan – ní rachaidh aon lá aoise air siúd ann go deo na ndeor, ná ortsa agus é i do theannta.
READ LESS
ISBN 9781857919455  €10 • Bog • 240 lch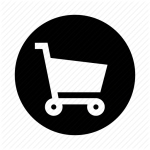 ---

David Cotter, Lorna Lopez, Eoin Kelleher, Helen Coughlan, Mary Cannon a scríobh
Léaráidí: Eoin Kelleher.   Fionnuala Nic Pháidín a rinne an leagan Gaeilge
The brain is our most important organ and perhaps the least well understood. It's the command station for our body controlling what we think, what we feel and what we do. This colouring book seeks to increase our understanding of the brain in a succinct engaging way using text, images, brain maps and cartoons.
READ MORE
It will give second-level pupils and adults alike an insight into how the brain works and into its central role together with the nervous system in directing how our whole body operates. Colouring books are increasingly popular today and used widely in the development of mindfulness and well-being. This book will be a welcome Irish language resource in these areas.
Originally published as Journey through the Brain authored by researchers from the Department of Psychiatry in RCSI (Royal College of Surgeons in Ireland).
READ LESS
ISBN 9781857911855  €6.50 • Bog • 42 lch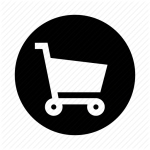 ---

---
Bairbre Ní Chuanaigh a scríobh  / Sheena Dempsey a mhaisigh
To hear an interview with the author of these new picture books broadcast on the Iris Aniar programme on Raidió na Gaeltachta click HERE. Interview begins 42 minutes into the programme.
Only babies wear nappies, right! Bláithín and Oisín are growing up quickly and are looking forward to saying goodbye for good to nappies and using a potty for the first time. Both these stories convey the fun that can be had when learning something new and how a little encouragement and support can reap wonders. A set of stickers illustrated by Sheena Dempsey accompany each book.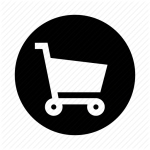 ---

Dhá leabhar sa tsraith Scéalta Béaloidis as na Ceithre hAirde. Bainfidh páistí óga sult as leagan Gaeilge na scéalta seo agus iad á léamh iad féin, nó agus duine eile á léamh os ard dóibh.
An Saor Cloiche Míshona
Scéal béaloidis ón tSeapáin. Seanscéal simplí é seo a bhaineann le traidisiún béil na Seapáine. Saor cloiche is ea é Haru. Bhí sé sona sásta go dtí gur thosaigh sé ag santú na rudaí a bhí ag daoine eile. Ach má tháinig an saibhreas d'imigh an sonas. 
An Pota Folamh
Seanscéal simplí é seo a bhaineann le traidisiún béil na Síne. Is buachaill óg macánta é Cheng. Níl gach duine eile chomh macánta céanna leisean, áfach, ach sin an rud a aithníonn Impire na Síne é féin. 
ISBN 9781857919424   ISBN 9781857919189   • Bog   • 24 lch    • 4-7 mbliana   • €5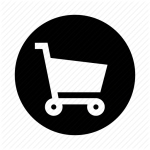 ---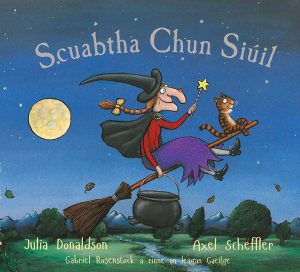 Scuabtha chun Siúil
le Julia Donaldson / Axel Scheffler
Gabriel Rosenstock a rinne an leagan Gaeilge
Bhí cat ag an gCailleach – Cailleach an hata – Ní srón a bhí uirthi ach Saghas éigin fata! Bhí an cat ag crónán is ag gáire go baoth. Seo chugainn ar an scuab iad ag teacht ar an ngaoth!  Sa tsraith chéanna: An Seilide agus an Míol Mór agus An Garbhán.
•€7.50  • 6 mbliana+  •28 lch   •Bog   •ISBN 9781857914542    • Léirmheas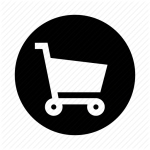 ---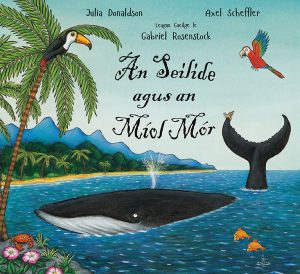 An Seilide agus an Míol Mór
le Julia Donaldson / Axel Scheffler
Bhí cat ag an gCailleach – Cailleach an hata – Ní srón a bhí uirthi ach Saghas éigin fata! Bhí an cat ag crónán is ag gáire go baoth. Seo chugainn ar an scuab iad ag teacht ar an ngaoth!  Sa tsraith chéanna: An Garbhán agus Scuabtha chun Siúil
•€7.50  • 6 mbliana+  •28 lch   •Bog   •ISBN 9781857915501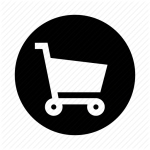 ---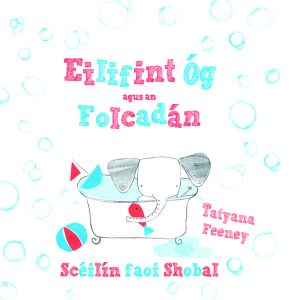 Eilifint Óg agus an Folacadán
le Tatyana Feeney
Shortlisted for the Literacy Association of Ireland Book Awards 2017. Click on the image for more information.
One of a series of 4 picture books by Tatyana Feeney.  The other titles in the series are listed below.
€5 an leabhar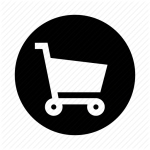 Eilifint Óg agus an Folcadán                  ISBN 9781857919011
Ulcabhán Óg agus an Scairf Oráiste     ISBN 9781857919035
Coinín Beag agus an Phluid Ghorm     ISBN 9781857919004
Frog Beag agus an Torbáin sin!             ISBN 9781857919028
---
Cosc ar Chrogaill!
Heather Pindar. Illustrated by Susan Batori.
It's to party but there's one rule: strictly no crocs! Zebra invited everyone to her party except the crocs. Cruncher, Chomper and Snapper are annoyeduntil Snapper comes up with the plan to disguise themselves, go to the party and eat everyone up!With their costumes on, the crocs make quick work of blending in at the party, but they soon forgettheir plan as the party proves to be too much
ISBN 9781857919301   • €7   • Bog   • 32 lch    • 6 mbliana+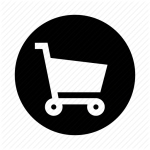 ---
Laochra Lúfara 
Who is quicker over 100 metres, an Olympic gold medalist or a cheetah? In this colourful series of info books we discover which animals are the the quickest, strongest and most athletic: Gaiscí Gleacaíochta; Gaiscí Snámha agus Tumadóireachta; Gaiscí Lúthchleasaíochta agus Gaiscí Nirt agus Troda. In an Olympic contest who would get the upper hand or paw in a head to head between man and beast!  On your marks, get set……
More about this series, click HERE
---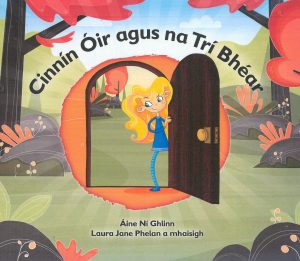 Cinnín Óir agus na Trí Bhéar
Áine Ní Ghlinn. Illustrated by Laura Jane Phelan
More about his book, click HERE 
---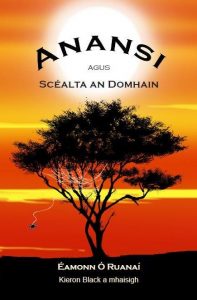 Anansi agus Scéalta an Domhain
Éamonn Ó Ruanaí a scríobh
Kieron Black a mhaisigh
Rógaire gan sárú é Anansi na n-ocht gcos. Is nós leis bob a bhualadh ar na déithe agus olc a chur ar a chomharsana. Ach taobh amuigh de sin níl sé ródhifriúil liomsa ná leatsa, i ndáiríre. Is breá le Anansi bheith ag comhrá leis na hainmhithe eile (nuair nach mbíonn sé á n-ithe). Is breá leis scéalta agus scéalaíocht. Ach bí ar d'aire, is breá leis bheith i mbun cleasaíochta freisin!
Tá cur síos ar naoi gcinn d'eachtraí iomráiteacha Anansi sa leabhar seo ó pheann Éamoinn Uí Ruanaí.
ISBN 9781857919295   €7.50   Bog   80 lch       Purchase    Extract from book
---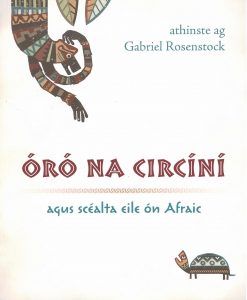 Óró na Circíní
Gabriel Rosenstock / Illustrated by Brian Fitzgerald
Shortlisted for the CBI Book of the Year Awards 2017. Over a dozen stories from the oral tradition of several African countries retold by Gabriel Rosenstock with striking illustrations by B. Fitzgerald.
---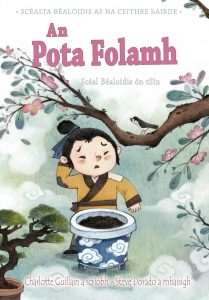 An Pota Folamh
(scéal béaloidis ón tSín)
This book tells the story of the Empty Pot, a traditional Chinese folk tale. In it, the hero of the story learns that it is better to be honest than to cheat, and that honesty will bring real rewards.
ISBN9781857919189    €5   PB  24 Pages   Purchase    Extract from book
---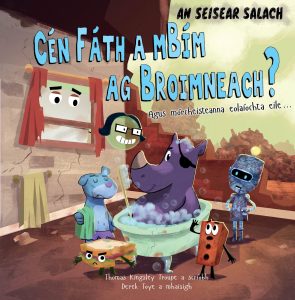 Cén fáth a mBím ag Broimneach?
Gordys taking a bath, when a stinky bubble floats to the surface. Gordy wonders, Why do bubbles come out of my body? When the bubble starts talking, it takes the gang on a journey that lifts the lid on how the human digestive tract works.
ISBN9781857919202      €5      PB     24lch    Purchase    Extract from book
An gCacann Beacha?
The Garbage Gang discovers a beehive in a stinky situation and they wonder, Do Bees Poop? With the help of a little bee friend, they get an answer to their burning question. By the end, they'll be knee deep in knowledge about living and nonliving things.
ISBN 9781857919196  €5   PB   24 pages   Purchase
---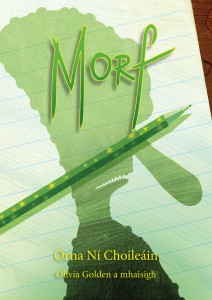 Morf
Eric gets lonely sometimes, his mother and father are so busy with his younger sisters sometimes that poor Eric doesn't get much attention. He'd love to have a friend. However, when Morf arrives Eric isn't sure if he's the type of friend that he really wants. Morf says that he's trying to help Eric, but does he really have Eric's best interest at heart?
ISBN9781857919219     €8.50     PB     88 pages     Purchase
---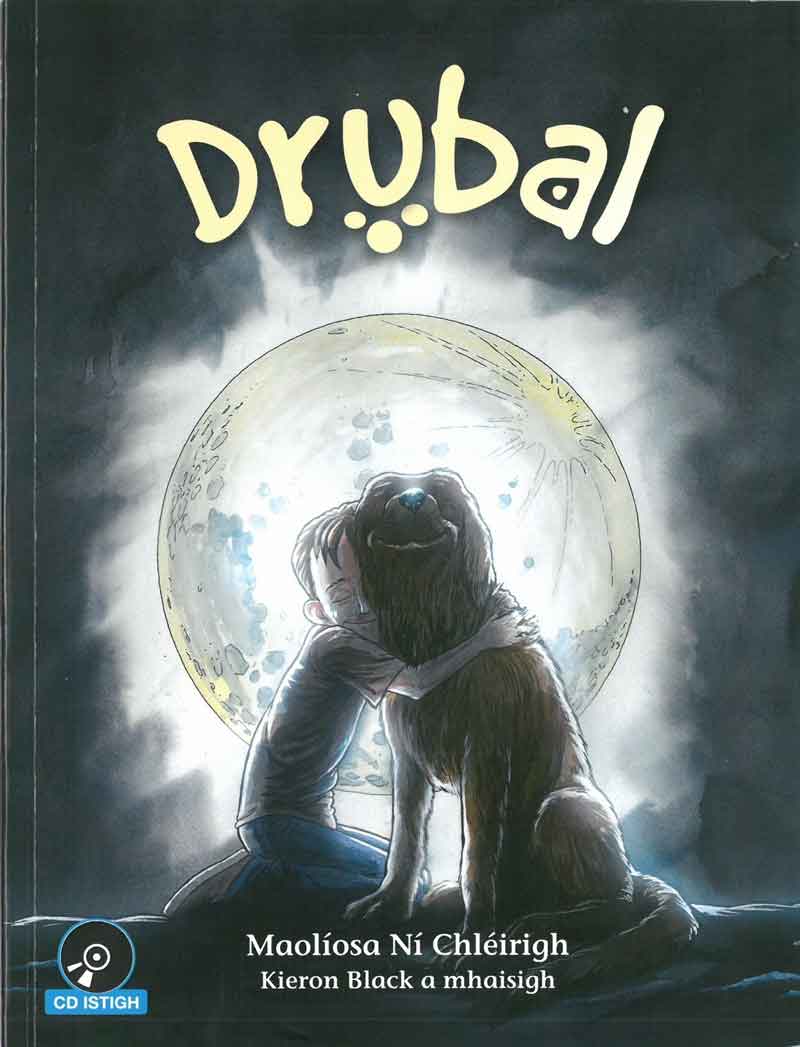 Drubal
Maolíosa Ní Chléirigh / Illustrated by Kieron Black 
Drubal the dog, lives a happy and comfortable life with the Ó Maoláin family. However, when the children start blaming him for their misdemeanours, to avoid getting into trouble with their parents, they get more than they bargained for. With accompanying CD.
ISBN9781857918922     €7     PB     Purchase    Extract from book