New Líonra Leitir Ceanainn Offices officially opened. National Gaelphobal campaign launched at the event
On Monday June 20th, the new Líonra Leitir Ceanainn Office on Castle Street F92YP93, Letterkenny, was officially opened, with Regina Ní Chollatáin, Chairperson of Foras na Gaeilge, as special guest on the day. There is social space available downstairs for Irish language classes and informal opportunities for people to come together. There is also a library, with books, games and other resources available to borrow.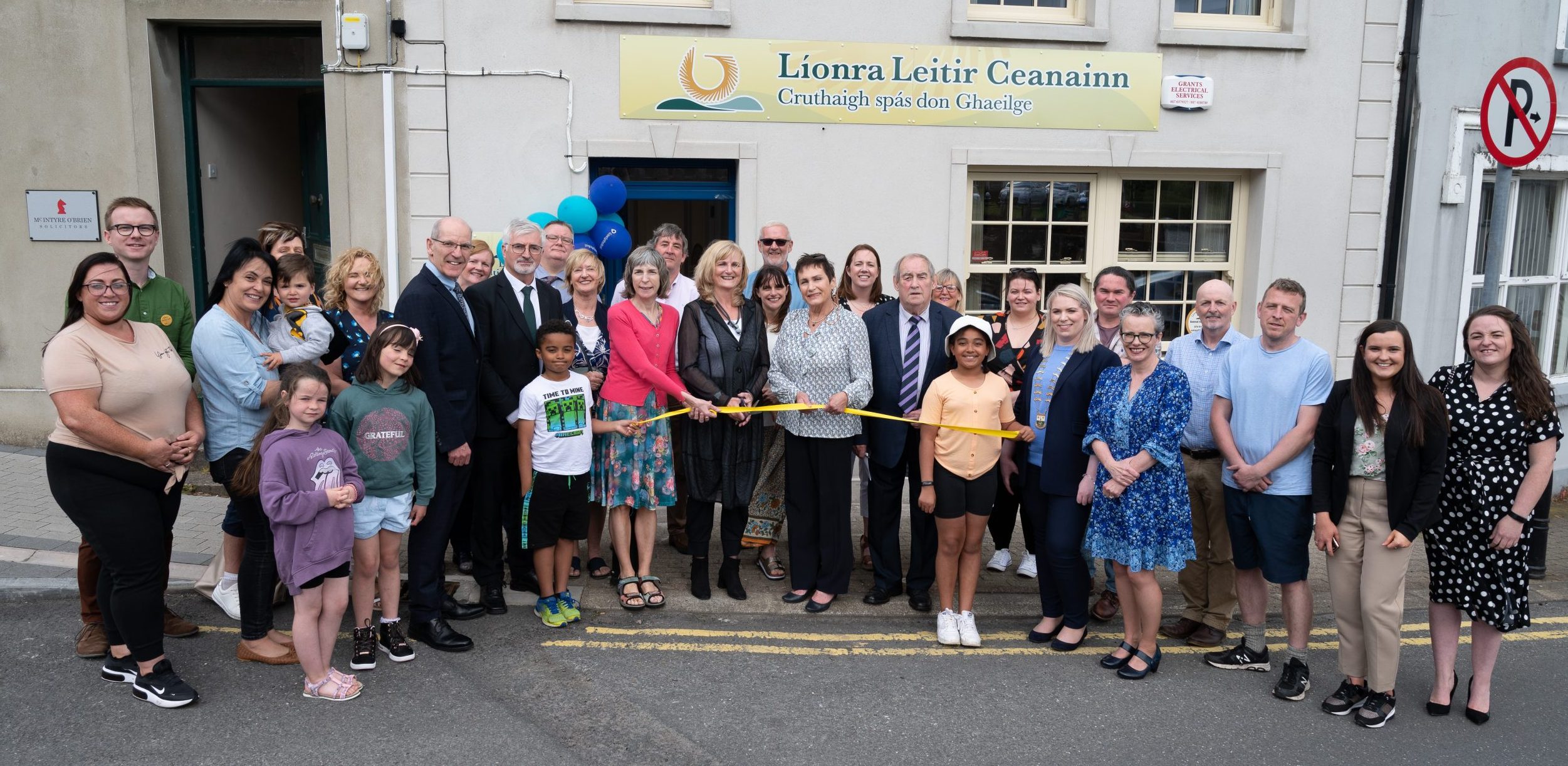 Foras na Gaeilge has facilitated the investment of over €4.1 million to date in the language planning process in eight areas that have recently received official recognition for the developments in their Irish language communities. These communities across the country have received this recognition and have been provided state support and funding in order to draft and implement language plans to further enhance the use of the Irish language in their area.
Foras na Gaeilge is deligted to launch Gaelphobal, an all-island campaign with communities that are engaged in language planning outside of the Gaeltacht. The website www.gaelphobal.ie will act as a central point of information for resources and support for communities at every stage of the language planning journey.
The Irish language has grown and developed in the Letterkenny area with an Irish Language Development Officer, Pádraig Mac Congáil, recently being appointed by Líonra LC. This role is funded by Foras na Gaeilge under the Irish Language Network Development Scheme and Pádraig will be working with the Language Planning Co-ordinator and with the language planning committee to implement the measures in the language plan. More information is available from eolas@lionralc.ie.
Leitir Ceanainn has been chosen as one of the seven Gaelphobal around the country to participate in the awareness raising campaign. As part of this, much of the local community and the work that is being done by Bairbre Uí Chathail, Pádraig Mac Congáil and Líonra Leitir Ceanainn will be seen in a new video about Gaelphobal in the area.
Caoimhe Ní Chathail and Micheál Ó Ciaraidh will also be heard on a radio advert on Highland Radio.
The visibility of the Irish language is at the centre of the Letterkenny Irish language plan and because of this there is a significant role for businesses, organisations and public services to promote the Irish language. Letterkenny is recognised as a Gaeltacht service town and Líonra Leitir Ceanainn is delighted to promote a new scheme being run by Glór na nGael.
We know from research recently completed that there is a commercial value to using the Irish language in the business sector. GRADAIM is a recognition scheme for businesses that use the Irish language as part of their work or who provide services through Irish for their customers. This is vitally important, not only for the community in Letterkenny, but also for the Gaeltacht community that do their business and shopping in the town.
Funding is available for businesses and organisations to create bilingual signage, marketing material and more through the Business Support Scheme run by Foras na Gaeilge. More information is available from the Language Planning Co-ordinator: eolas@lionralc.ie 086 0751663
More than seventy people have taken part in Irish language classes from the beginning of the year - from absolute beginners to fluent speakers.
A weekly conversation circle takes place in the office on Tuesday mornings at 10, Braon Beag Gaeilge for a beginners group on Wednesday mornings and Líonra na Leanaí, a group part-funded by Glór na nGael, taking place on Thursday mornings at 10.30. A youth club has also recently been founded along with Ógras in the Gaelscoil.
Significant and fruitful co-operation is also taking place with the other Irish Langauge Planning Officers in the county and with other organisations such as the Irish Language Department in the County Council, Donegal Youth Service and Donegal Sports Partnership. A Pop-Up Gaeltacht takes place on the first Thursday of every month and there are also a couple of trips planned for the summer. The organisation has done research in the Atlantic Technological University and Líonra LC has a plan in partnership with the institution to increase the opportunities and possibilities for the Irish language community on campus here in Letterkenny.
The main aim is to provide opportunities for the Irish language community and for those who are interested in learning or improving their Irish in Letterkenny. There can be no plan without a community and it is clear that there is a strong and lively community here in Letterkenny.
Bairbre Uí Chathail, Language Planning Co-ordinator, said, "There has been a resurgence in the Irish language in Letterkenny, there's no doubt about it! It gives me so much joy to see the demand that there is for classes and events, to recognise the goodwill of businesses towards the Irish language and to hear our native language being spoken by people from the town and from Gaeltacht areas on the streets of this town."
Minister of State Jack Chambers TD said: "As Minister with responsibility for the implementation of the Gaeltacht Act 2012 I am pleased to see the significant progress that has been made in the language planning process throughout the country as a whole. In the communities I visit in towns and villages all over Ireland, I am always so impressed by the enthusiasm, commitment and dedication of local people who are so passionate about strengthening and promoting the Irish language. I congratulate Foras na Gaeilge on this new campaign and website which will be an excellent resource for the current language planning organisations and for those in the future. I am also delighted this initiative focusses on making it easier for the public to find out about the Irish language in their own areas. This is essential for getting more people to embrace the language and to ensure its growth into the future."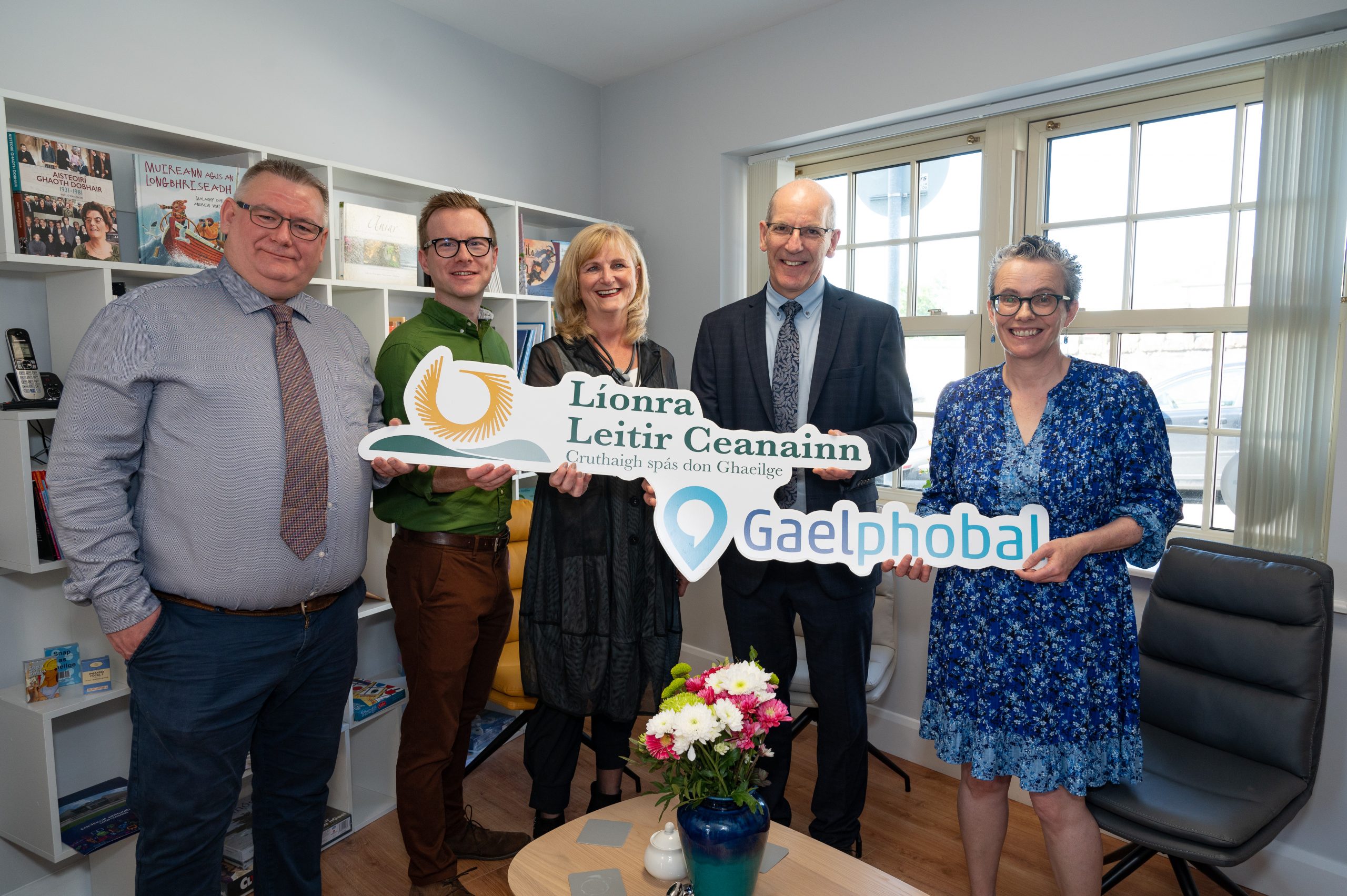 Pictures : Clive Wasson
More pictures available from Ali at ali@lorgmedia.com
lionralc.ie
facebook.com/lionralc
twitter.com/lionralc
instagram.com/lionra_leitir_ceanainn/