All aboard with Téarma.ie
A new version of www.téarma.ie, The National Terminology Database for Irish, was launched during Seachtain na Gaeilge at a launch event at Foras na Gaeilge headquarters today. The new website was developed by Fiontar & Scoil na Gaeilge, DCU with funding from Foras na Gaeilge.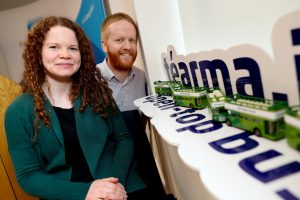 www.téarma.ie is a platform for publishing the work of the Terminology Committee, a collection of terminology that covers a broad range of technical fields, from contemporary computing to traditional sailing. The database contains approximately 185,000 bilingual entries and has been one of the most widely-used Irish-language digital resources since its launch in 2006. Users of the site made over 7.5 million searches in the database in 2018.
The appearance of the website has been totally redesigned in a clean, contemporary style that is in keeping with other Foras na Gaeilge language resources. The new site has a responsive design, meaning that it will render well on a variety of devices or screen sizes.
The homepage now contains a feature that lists entries that have been recently added to the database, e.g. open top bus (bus oscailte), gealach na fola (blood moon), teorainn réidh (soft border) and tionchaire (influencer). Another new feature is the browsable domain list, providing a different way of querying the database.
Terms listed in the search results now have an additional feature which provides one-click access to searches in several other Irish-language resources (i.e. www.foclóir.ie, www.teanglann.ie, www.gaois.ie and Nua-Chorpas na hÉireann).
Foras na Gaeilge CEO, Seán Ó Coinn said, "For over 10 years, since the terminology website was made available to the public for the first time, Irish terminology and lexicography have dramatically changed in ways you would not expect in that short period of time. That transformation not only shows the linguistic expertise we have among us, but also reveals the technological expertise and partnership. Foras na Gaeilge has a very beneficial collaboration with third level institutions in relation to lexicography and terminology initiatives which allow us to make achievements that would not be possible for us to make alone. I would like to thank Fiontar & Scoil na Gaeilge DCU in particular in relation to this project. I would also like to thank members of The Terminology Committee for being so generous with their time and expertise; the result of their work can be seen on this new site."
Ends
Note for editor:
The following developments made on www.téarma.ie:
A multilingual terminology database containing approximately 185,000 concepts
Quick search providing exact results and related results
Advanced search for more specific queries
Browse by domain
Links to other language resources, i.e. foclóir.ie, teanglann.ie, gaois.ie, Nua-Chorpas na hÉireann
Terminology data available for download in TBX & TXT format
Terminology request form to make an enquiry to the Terminology Committee
Source code available under open licence
The new version of www.téarma.ie uses an onomasiological (or concept-based) approach with the search term being listed separately under each of the different concepts to which it refers. The previous version followed a semasiological (or dictionary-based) approach wherein the different meanings of a term were laid out under a headword. The main reason for this shift in emphasis is to differentiate more effectively between www.téarma.ie as a source for technical terms and online dictionaries which focus on general language.
In addition to the new features mentioned above, the terminology management system behind www.téarma.ie has been totally re-engineered. This is an essential aspect of the project that is not visible to the public but enables the effective storage and editing of the terminological data. 'Fiontar & Scoil na Gaeilge, DCU will launch Terminologue, a public, cloud-based version of this platform at www.terminologue.org in April 2019. This new resource will allow users to create, edit and publish their own termbases free of charge. In addition, the source code for both www.téarma.ie agus Terminologue will soon be published at github.com/gaois.
Further Information:
Anna Davitt, Programme Manager: Communications, Marketing & Awareness, Foras na Gaeilge
Tel: 0035387 673 6175
Email: adavitt@forasnagaeilge.ie