Foras na Gaeilge announces tour
Foras na Gaeilge is pleased to announce a series of information nights to promote funded schemes available from the north/south Irish language body in 2019. The first will take place at Aonach an Oireachtais at Oireachtas na Samhna in Killarney on 2 November.  At these nights Foras na Gaeilge will share information on the organisation's work, its funding scheme and the supports available. The public will have an opportunity to give feedback on the use and promotion of Irish in their own area.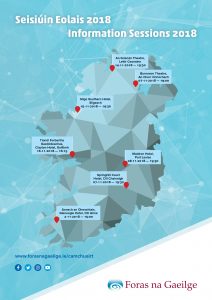 Foras na Gaeilge Chief Executive, Seán Ó Coinn said, "We have recognised certain areas north and south where the number of applications to various funding schemes has been relatively low in recent years. To tackle this, visits were organised in February and November 2017 to speak with the public in these areas with the aim of raising awareness of the opportunities for funding and support available. These sessions were very beneficial as the participants shared valuable feedback with us which we have taken on board. We look forward to engaging with the public again with this third series of visits to present the 2019 funding schemes."
Among the schemes to be discussed are the Youth Activities Scheme, the Summer Camps Scheme and writing schemes. Foras na Gaeilge will also provide funding in the business, arts, media and publishing sectors. Visit the Foras na Gaeilge website, www.forasnagaeilge.ie/sceimeanna, for a full list of the available schemes.
Foras na Gaeilge will present the following sessions in the coming weeks:
| | | | |
| --- | --- | --- | --- |
| Date | Town | Venue | Time |
| 02/11/2018 | Killarney, Co. Kerry | Aonach an Oireachtais, Oireachtas na Samhna, Gleneagle Hotel, V93 V6WF | 15:00 |
| 07/11/2018 | Kilkenny City | Springhill Court Hotel, R95 NX32 | 19:30 |
| 07/11/2018 | Cookstown, Co. Tyrone | Burnavon Theatre, BT80 8DN | 19:00 |
| 08/11/2018 | Portlaoise, Co. Laois | Maldron Hotel, R32 HKN3 | 19:30 |
| 14/11/2018 | Letterkenny, Co. Donegal | An Grianán Theatre, F92 RV1F | 19:30 |
| 15/11/2018 | Sligo Town | Sligo Southern Hotel, F91 EW24 | 19:30 |
| 16/11/2018 | Galway City | Tionól Forbartha Gaeloideachas, Clayton Hotel, H91 D526 | 16:15 |
* Ends *
About Foras na Gaeilge
Foras na Gaeilge was founded under the Good Friday Agreement and are responsible for the following:
promotion of the Irish language;
facilitating and encouraging its use in speech and writing in public and private life in the South and, in the context of Part III of the European Charter for Regional and Minority Languages, in Northern Ireland where there is appropriate demand;
advising both administrations, public bodies and other groups in the private and voluntary sectors;
undertaking supportive projects, and grant-aiding bodies and groups as considered necessary;
undertaking research, promotional campaigns, and public and media relations;
developing terminology and dictionaries;
supporting Irish-medium education and the teaching of Irish.
Further information:
Anna Davitt, Programme Manager: Communications, Marketing & Awareness, Foras na Gaeilge
Tel: 0035387 673 6175    
Email: adavitt@forasnagaeilge.ie
Colm Ó hArgáin, Higher Executive Officer: Education, Foras na Gaeilge
Tel: 00353 1 639 8400
Email: cohargain@forasnagaeilge.ie