Your Career with Irish: Grad Ireland #FYI and Language Fair, 8 February
Foras na Gaeilge are pleased to launch DoGhairm le Gaeilge (Your Career with Irish) awareness campaign in association with Grad Ireland. This campaign is aimed at undergraduates and will seek to draw attention to the benefit of working with bilingualism and fluency in Irish in the workplace, whether by encouraging students to mention Irish language competency on their CV when applying for posts, using their Irish in the jobs they will have in the future, choosing postgraduate degrees in Irish as well as applying for jobs in the Irish language sector.
Speaking today the CEO of Foras na Gaeilge, Seán Ó Coinn, said "We hope that the campaign will influence young people as they consider the long-term relationship they will have with the language.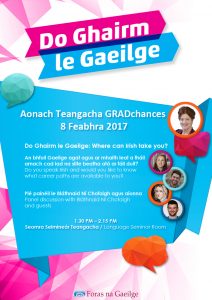 We would like to show students how worthwhile it is to develop their fluency so they understand the various possibilities for working in different areas through Irish, including teaching, translation, law and media.
To that end the guidebook Do Ghairm le Gaeilge (Your Career with Irish) has been published online. It gives practical advice and valuable information on training courses and work opportunities through the Irish language. As well as that online material has been developed, including videos of interviews with careers ambassadors from different fields in which they describe the advantage the Irish language has given them in their working life to date.
As part of the campaign Foras na Gaeilge will have a stand at the #FYI Careers Fair and the Grad Ireland Languages Fair in the RDS on the 8 February 2017 and there will be a strong team to speak with students about the various training, employment and voluntary opportunities available through Irish. Bláthnaid Ní Chofaigh (RTÉ board member and broadcaster) will present a seminar at 1.30 PM as well which will focus on experience and practical advice on working with Irish from the video participants.
More information on the seminar and registering for the fair is available here:

Foras na Gaeilge welcomes all to the occasion and particularly welcomes students, employers and 3rd level educators.
* Ends *
Further Information:
Anna Davitt, Programme Manager: Communications, Marketing & Awareness, Foras na Gaeilge
Tel: 0035387 673 6175    
Email: adavitt@forasnagaeilge.ie