The Frisian literary journal Ensafh has produced a special edition entitled Éire
The Frisian literary journal Ensafh has produced a special edition entitled Éire (Ireland) (2017, no. 1), featuring Frisian translations of poems and stories, and original Frisian work inspired by Ireland. The translations are of work written by Irish writers in English and Irish.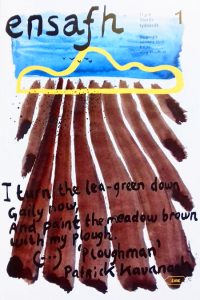 The most famous Irish writer in this edition is the poet Patrick Kavanagh (1904-1967). Eppie Dam and Jantsje Post have translated four of his poems from English into Frisian and Post has written an introduction to his work. Also included is the poetry of two young Irish poets from Cork, Ailbhe Ní Ghearbhuigh and Billy Ramsell, translated into Frisian by André Looijenga.
The idea to make this edition of Ensafh focussing on Ireland was inspired by contact between the editors and Réaltán Ní Leannáin, the Irish writer who completed an eight week literary placement in Leeuwarden in 2016 as part of the Other Words literary exchange programme. Réaltán, who comes from Belfast and lives in Dublin, writes prose and poetry in Irish. Two of her stories, in translations by Janneke Spoelstra and Hedwig Terpstra, are included in this edition. Réaltán in turn has translated four poems of Janneke Spoelstra into Irish.
The contributions on Ireland have been written by Edwin de Groot (a poem about the Great Famine in Ireland in the mid 19th century), Bartle Laverman (a poem about Irish peat diggers) and Jan Ybema (sketches about Ireland, the Irish language and literature).
Réaltán has also written a brief introduction to Irish literature and André Looijenga introduces the Irish language for people outside of Ireland.
Ensafh intends to present further special features on lesser used European languages. The next one will focus on Malta and there are editions planned on the Basque Country, Macedonia and northern Friesland.