Katharina Dietz wins Niall Ó Dónaill Medal 2022
The daughter and granddaughter of Niall Ó Dónaill, Éilis Grae and Síle Grae, presented the Niall Ó Dónaill Medal to Katharina Dietz at an event in Foras na Gaeilge's headquarters in Dublin last month. Katharina won the main prize in the lexicography essay competition, organised by the Department of Lexicography in Foras na Gaeilge. This competition aims to encourage third-level students to consider lexicography as a research area and as a career. The following students won prizes this year:
Connacht Prize and the main prize – Katharina Dietz (Trinity College Dublin) – €300 prize and the Niall Ó Dónaill Medal
Ulster Prize: Tomás Ó hAodha (Magee College, University of Ulster) – €200 prize
Munster Prize: Saoirse Ní Bhriain (St Angela's College) – €200 prize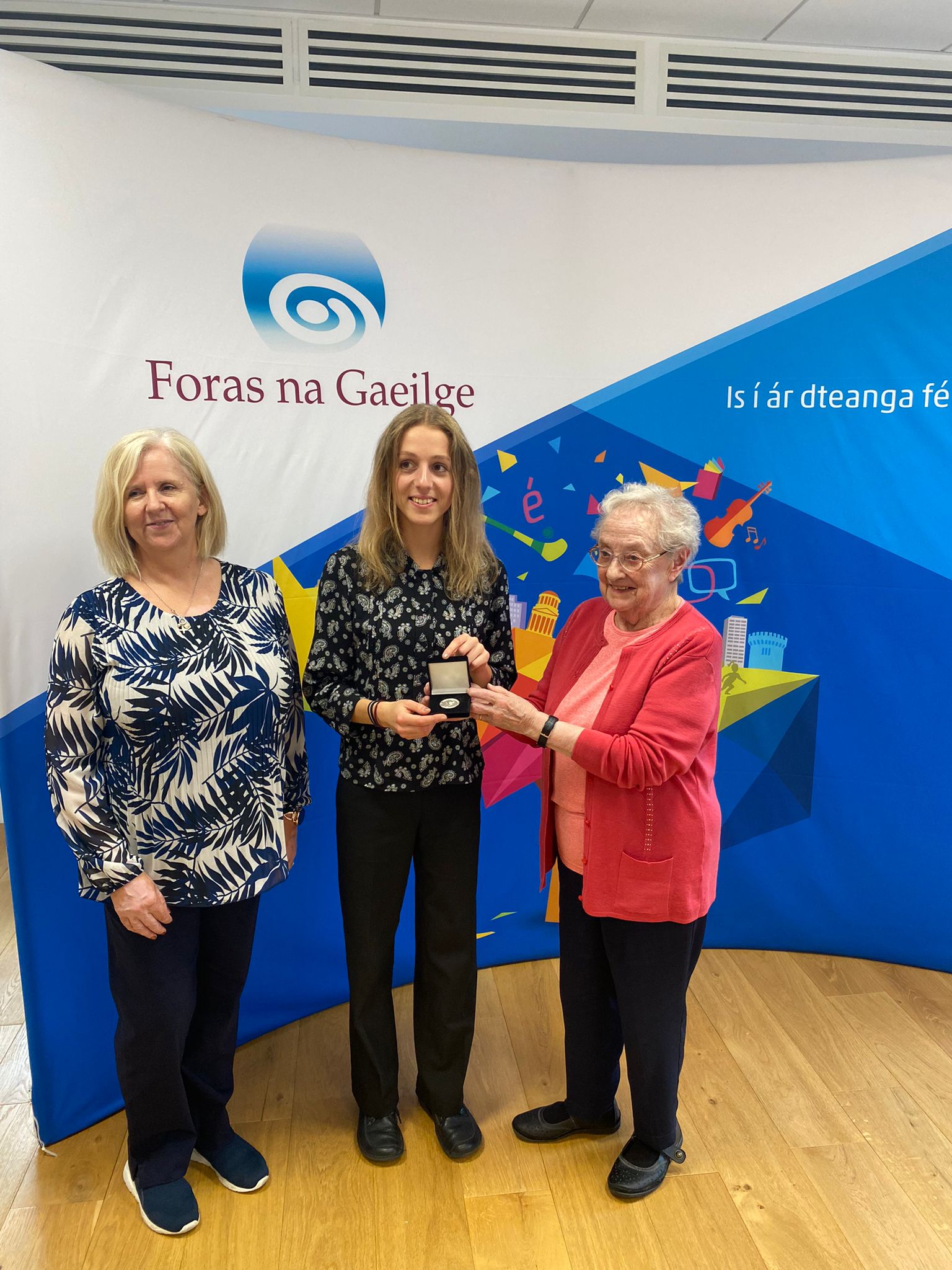 The assessment panel were very impressed by the range of material and by the high standard of the essays in general. Pádraig Ó Mianáin, Foras na Gaeilge's Lexicography Editor, said:
"Students have expressed a keen interest in the Niall Ó Dónaill essay competition two years in a row and that is a great source of encouragement for us in the Department of Lexicography. We congratulate all of the students who entered the competition this year on their excellent work. We thank the lecturers and tutors who helped them to prepare their essays or encouraged them to enter. Congratulations to Katharina, Tomás and Saoirse who wrote exceptional essays and who won prizes in this year's competition. We sincerely thank Éilis Grae and Síle Grae, the daughter and granddaughter of Niall Ó Dónaill; it was a great privilege for us to have them both at the event."
Katharina Dietz, a trainee teacher from Leitrim, wrote an essay entitled 'Is the era of printed dictionaries over?". In this essay, she analysed the advantages and disadvantages of printed and digital dictionaries. She explored the impact of the digital revolution in the context of the Irish language, while also considering the benefits of traditional printed dictionaries. Katharina discussed the power of the multi-functional dictionary resources that are available online, but she also expressed that it cannot be said for sure that the era of printed dictionaries is over, given recent statistics and research.
This is the second year that Foras na Gaeilge has held this competition in honour of the celebrated lexicographer who was the editor of the well-known Foclóir Gaeilge-Béarla in 1977. Foras na Gaeilge has commissioned a special medal as a prize for first place and they intend to run this competition again next year.