Screen Directors Guild Of Ireland presents FORAS NA GAEILGE AWARD to Irish Director Dathaí Keane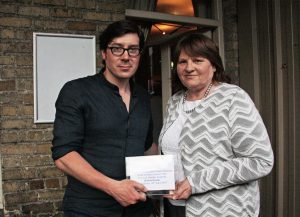 The Screen Directors Guild of Ireland (SDGI) is honored to present the FORAS NA GAEILGE AWARD to Irish director Dathaí Keane in recognition for Outstanding Contribution in the Irish language in Film and TV.
Directed by Keane and starring Owen McDonnell (My Mother and Other Strangers), Dara Devaney (Rúbaí), and Seán T. Ó Meallaigh (Vikings), AN KLONDIKE tells the story of the Connolly Brothers; three Irish emigrants who travel from Montana to the Yukon during the Klondike gold rush of the 1890's in the hope of striking it rich.
The award was presented at Odessa Club and Restaurant today (20th June 2017) at 8:15pm with SDGI Director Birch Hamilton also in attendance.
Speaking about the award SDGI director, Birch Hamilton said, "It's wonderful to present this award to Dathaí Keane for his outstanding efforts in Irish Language. We're delighted to be honouring Dathaí with this award and are looking forward to seeing his work and how it develops and prospers in the future."

Previous winners of the award include Darach Mac Con Iomaire (Corp & Anam), Tom Collins (An Bronntanas), Louis Marcus (Oscar Nominated director 1798 agus O'Shin, Famine) and Colm Bairead (director of Lorg nag Cos: Súil Siar ar Mise Éire, Screwed)
ENDS
Screen Directors Guild of Ireland (SDGI)
Established in 2000, the Screen Directors Guild of Ireland (SDGI) is the representative body for Directors involved in the Irish and international audiovisual industry. These include Directors of feature films, fiction, animation documentary, television drama, short films, video art and commercials. The ethos of the Guild is inclusive and proactive in encouraging a dynamic and supportive forum for directors to discuss their ideas or concerns and has grown to become a forum for very positive dialogue about making films.

About the award:
Foras na Gaeilge Screen Directors Guild of Ireland Award is a recognition award for outstanding contribution made in the Irish language across feature films, documentaries, short films both in animation and live action. The aim of this award is to send a message to the working directors of Ireland that their work made in Ireland is valued and to encourage them to continue to work in the Irish language.

For media information, images, and interview requests contact the Screen Directors Guild of Ireland – hello@sdgi.ie
087 126 2376