Shortlists Announced for the 2022 Irish-Language Book of the Year Publishing Awards
The shortlists were announced today, 25th of August 2022, by An tOireachtas, in conjunction with Foras na Gaeilge, for the Irish-Language Book of the Year Publishing Awards - Gradam Uí Shúilleabháin (Book of the Year for Adults), Gradam Réics Carló (Book of the Year for Children) and Gradam de Bhaldraithe (Book of the Year for publications translated into Irish).
Sixteen (16) books in total have been shortlisted – six (6) in the category, 'Irish-Language Book of the Year for Adults'; five (5) in the Children's Book category and five (5) in the category for translated works.
The 11 Publishing Houses shortlisted include An tSnáthaid Mhór; Barzaz; Cló Iar-Chonnacht; Cló na nGael; Dalen Éireann; Éabhlóid; Foilseacháin Ábhair Spioradálta; Futa Fata; Leabhar Breac; LeabhairCOMHAR and Móinín. Full details of works are available below.
"I congratulate the Publishing Houses appearing on this year's shortlists aswell as the authors, illustrators and translators involved in all of these exceptional books", said Máirín Nic Dhonnchadha, CEO of An tOireachtas. "An tOireachtas are delighted to award due credit to the exceptional calibre and outstanding quality of new Irish writing and publishing reflected in all the books shortlisted this year. There has never before been so much choice for Irish Language literature enthusiasts and I wish to commend all Publishing Houses for their invaluable work in their high standard of publishing year after year".
Foras na Gaeilge Chief Executive, Seán Ó Coinn, said "I congratulate the publishers, authors and illustrators on being nominated for the shortlists of the Publishing Awards. Our publishers, writers and illustrators depend on each other as a community in order to provide reading material for Irish speakers. With development and growth in the publishing sector, more Irish language books are being read year after year. However, the long-term success of Irish language publishing continues to depend on governments, north and south, to recognise the importance of literature as part of the fabric of developing a minority language. Now is the time to support the publishing sector to allow for continued growth and expansion to add to the excellent work they are currently doing."
The winners of the awards will be announced at a special ceremony in Dublin in early October 2022. A collective prize fund of €17,000 will be awarded. Details of all publications are available at www.antoireachtas.ie.
More Information:
Louise Ní Dháibhéid, An tOireachtas T: 00353 87 100 5439 E: louise@antoireachtas.ie
Gradam Uí Shúilleabháin
SEACHT dTÍR, SEACHT dTEANGA written by Diarmaid Johnson, published by Leabhar Breac – A travel book, a language book, a song book and a music book. A book about people and places from the author's travels in Europe in the last forty years – from Inverness to Bucharest, from Conamara to Warsaw.
SÚIL AN DAILL written by Darach Ó Scolaí, published by Leabhar Breac - This is the story of Conchúir Mac Ardail: clerk, senior councillor, and father. The modernisation of the lordship, is Conchúr's dream. Many things stand between him and its fulfilment – a headstrong master, jealous nobles, empty coffers and his own human failings. On top of all that, there's the lord's son, Féilimí Caoch, a charismatic warrior-prince who Conchúr wishes to remould as a modern European ruler.
BLÁTH NA dTULACH – DÍOLAIM ULTACH arranged by Réaltán Ní Leannáin, published by Éabhlóid – This book is a collection of 28 short stories from 28 writers, young and old, that commemorates the contemporary style of writing in Ulster.
ÁRASÁN written by Ógie Ó Céilleachair, published by Cló Iar-Chonnacht - A quick and engaging novel aimed at young adults. Four students living together in the same apartment during their first year of college. They are faced with the virtues and vices of student life throughout the academic year. Nightlife, alcohol, revelry, societies, clubs, the reality of third level learning, sex, money and the lack thereof, the challenges of relationships. How will they fare?
FLÓRA NA SAMHLAÍOCHTA written by Bríd Ní Mhóráin, published by Foilseacháin Ábhair Spioradálta – They create the air that keeps us alive, provide food, beauty and images to nourish us, connect us to the culture of the world and heal us. It is time for the herbs to express themselves in their fluent language in the Flora of Imagination.
POBAL NA GAEILGE: DAONRA, INSTITIÚIDÍ, STÁDAS AGUS CUMHACHT written by Pádraig Breandán Ó Laighin, published by Cló na nGael - This book represents a paradigm shift in understanding the Irish-language community and the role of its language in Irish society. A wide-ranging analysis of population, institutional, and status issues is presented in the context of an incisive critique of the ways in which official policies – both overt and covert – influence the distribution of power and control, and facilitate patterns of dominance and marginalization. Given the attractive writing style, the general reader and the specialist alike are invited to look in a new way, under the direction of the author, at the Irish-language community.
Gradam Réics Carló
AN SLIPÉAR GLOINE written by Fearghas Mac Lochlainn and illustrated by Paddy Donnelly, The author created beautiful movement and rhythm in this latest version of 'Cinderella'. Luaithrín is upset by her step-mother, Camilla, and her two awful daughters, Straoisín and Smaoisín. Younger children will delight in the fun and laughter that is cleverly incorporated in these rhyming verses – a famous tale known worldwide.
DIALANN EMILY PORTER: THÍOS SEAL THUAS SEAL written by Richie Conroy and illustrated by Don Conroy, published by LeabhairCOMHAR - Emily Porter is happy out. Herself and Cian are officially going out, she's in transition year now (no homework for a year), and there's a new teacher at school who is inspiring, kind and a total lash! But it's not long before things start to unravel for the poor teenager. She has problems galore.
Emily Brontë and Emily Dickinson are literary icons and Emily Porter is delighted that her diary is adding to the literary tradition of the Emily's.
FÓIR ORM! written by Áine Uí Fhoghlú and illustrated by Deirdre Ní Thuathail & Clifford Hayes, published by Cló Iar-Chonnacht - An adventure novel for young people. Having finished national school, sixth class students take off on holiday to the island of Inis Mór. Amongst them, twelve-year-old Eoin Ó Dálaigh, who blames himself for his mother's death. Their plane is blown off course and Eoin arrive on an abandoned island. How will he survive? An exciting and eventful story that young readers will enjoy.
RITA AGUS AN FATHACH written by Máire Zepf and illustrated by Andrew Whitson, published by An tSnáthaid Mhór - Rita is a little girl with big ideas. Rita is worried about the planet and wishes she had a giant who could collect all the plastic from the oceans and clean up the whole world. But can a giant do all of that alone? Fun and mischief guaranteed!
SPLUFF SPLAIFEIRTÍ AGUS AN TIONRADH AR AN BPLAINÉAD MARZ written by Ré Ó Laighléis and illustrated by Ray McDonnell, published by Móinín - Spluff Splaifeirtí and his friends embark on a journey full of challenges and adventure to the planet Mars. Adventure, exciting characters, challenges and amazing events will forever change our understanding of mankind's interest in space exploration.
Gradam de Bhaldraithe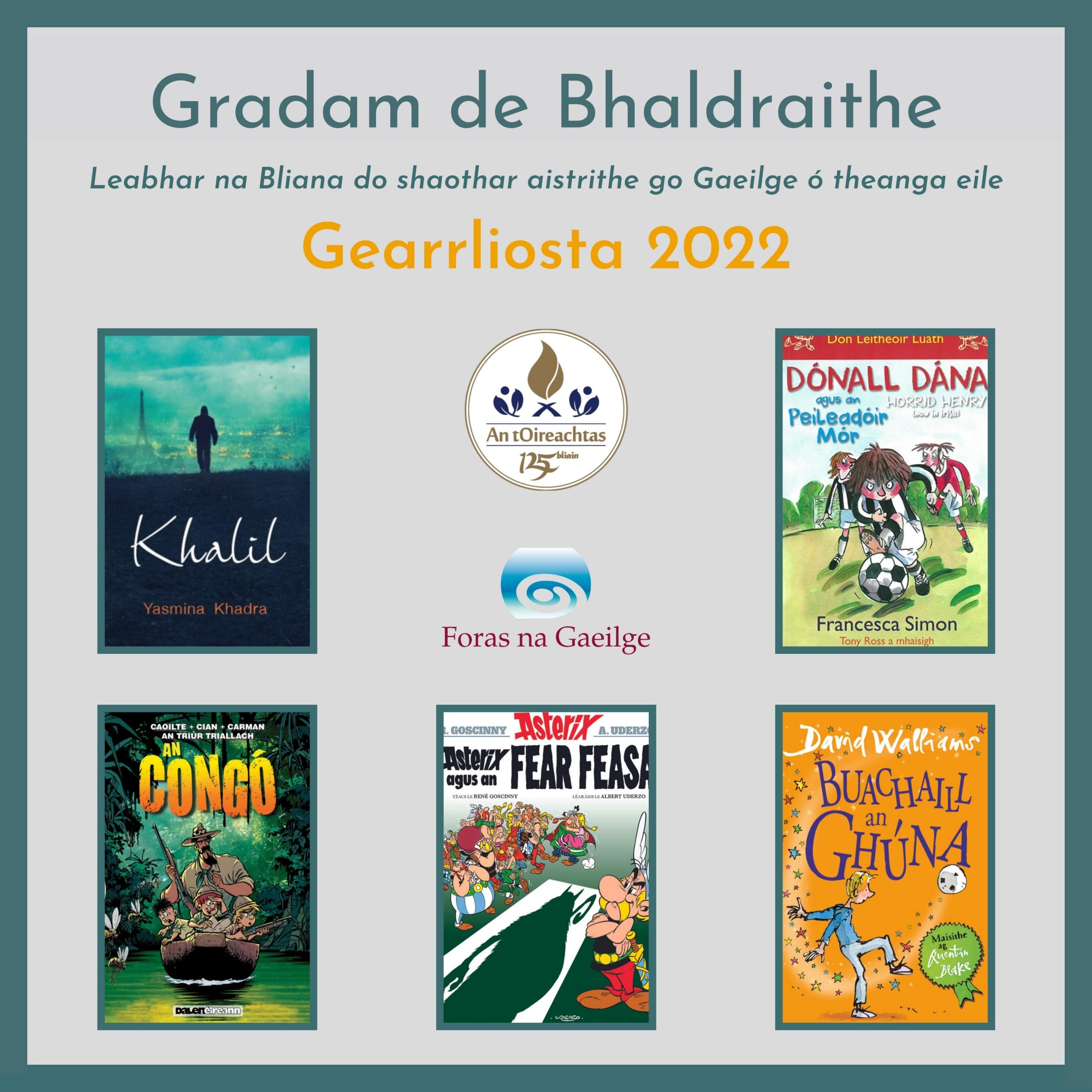 BUACHAILL AN GHÚNA written by David Williams and translated by Máirín Ní Mhárta, published by Futa Fata – Dennis lives in a boring house on a boring street in a boring town but he has just discovered a way to make life more fun and playful – all he has to do is open his mind! This book will make you laugh and make you cry. You won't quickly forget Dennis and his shenanigans!
DÓNALL DÁNA AGUS AN PEILEADÓIR MÓR written by Francesca Simon and translated by Máirín Nic Con Iomaire, published by Cló Iar-Chonnacht – A full colour book that is suitable for the early reader. Horrid Henry loves football and he needs to win – and it doesn't matter how. Moody Margaret is also determined to win. Who will triumph?
KHALIL written by Yasmina Khadra and translated by Máirín Nic Con Iomaire, published by Barzaz - In this daring, propulsive literary thriller, Yasmina Khadra takes readers to the margins of Europe's glittering capitals, through neighbourhoods isolated by government neglect and popular apathy, if not outright racism. And he brings to life an unusual protagonist, a young man struggling with family, religion, and politics who makes fateful choices, and in doing so dramatizes powerful questions about society and human nature.
ASTERIX AGUS AN FEAR FEASA written by René Goscinny & Alberto Uderzo and translated by Gabriel Rosenstock, published by Dalen Éireann – During a violent thunderstorm, a strange fortune-telling soothsayer turns up in the Gaulish village, drawing Asterix's friends into his web of enticing deception. In the midst of general confusion, Asterix is unable to convince his fellow villagers of the soothsayer's deceit — whose warnings of foreboding are sure to rip the Gaulish village apart.
AN TRIÚR TRIALLACH: AN CONGÓ witten by René Goscinny & Alberto Uderzo and translated by Seaghan Mac an tSionnaigh, published by Dalen Éireann - Mosaik's weekly German comic with the characters of Die Abrafaxe was first published in 1976, recognized by the Guinness Book of Records as the longest-running comic series in the world.