More than 8,000 young authors take part in Scríobh Leabhar 2016/17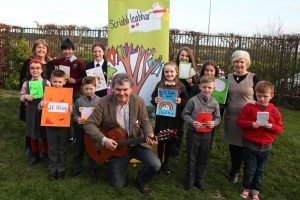 At an event on Tuesday 4 April in Gaelscoil na Dúglaise prizes were presented to some of the 1,000 children who created, designed and published their own books in Irish as part of the Foras na Gaeilge Scríobh Leabhar project in County Cork. The musician and singer John Spillane was in attendance as special guest on the night along with local musicians to celebrate the children's achievement with them. Speaking at the awards event the Director of Cork Education Support Centre, Niamh Ní Mhaoláin, said that she was 'delighted' about the high quality of the books and about the 'positive attitude the project created towards the Irish language in schools'.
In total this year 121 schools and more than 8,000 children took part in the project and more than 5,000 books were written. There will be other events like this one in other areas in coming weeks to celebrate what young pupils throughout the country have achieved. Foras na Gaeilge organises the Scríobh Leabhar project in conjunction with the Education Centres: Clare Education Centre, West Cork Education Centre, Dublin West Education Centre, Carrick-on-Shannon Education Centre, Laois Education Centre, Tralee Education Centre, Kilkenny Education Centre, Cork Education Support Centre, Gort an Choirce Teachers' Centre in Donegal and An tÁisaonad in Belfast.
More than 50,000 pupils have taken part in the Scríobh Leabhar project since it was set up in the 2006/2007 school year.  Not only do pupils write their own book as part of this project but they also have the opportunity to read and discuss stories by children from other schools.  It gives an exciting opportunity to children to express their feelings through Irish. As well as that, it fosters cooperation between school communities and makes the children aware of the concept of peer review and it especially fosters creativity and a holistic approach to child development. Teachers also have a central role in the Scríobh Leabhar project, and they are given inservice training to help them help the children in their efforts. 
"This is a great opportunity for children to enjoy Irish and at the same time express their imagination," said Aedín Ní Bhroin, Director of the Irish Language Books Programme of Foras na Gaeilge. "They write about all kinds of subjects, from their holidays with their families, their adventures with their friends, their pets and the world through their own eyes. Not only does this project allow them to create their own book, both writing and illustrating it, but it is a great way also to foster their confidence in their Irish language ability", she said. 
"The Scríobh Leabhar project gives an opportunity to young children to show their ability, their creativity and their enthusiasm for Irish from a very young age. One of the aims of Foras na Gaeilge is for young people to have opportunities to speak and write and this aim is clearly achieved by Scríobh Leabhar. There has been a great deal achieved when you look at the number of children and schools that have taken part in the project since it started more than ten years ago", said Seán Ó Coinn, Chief Executive of Foras na Gaeilge. "We are indebted to the Cork Education Support Centre and all the other centres for taking part again this year. The centres deserve fulsome praise, as do the children and teachers for the exponential growth of the project", he said.
* Ends *
Further Information:
Anna Davitt, Programme Manager: Communications, Marketing & Awareness, Foras na Gaeilge
Tel: 0035387 673 6175    
Email: adavitt@forasnagaeilge.ie